Cohort 1 student Tim Hillel wins first prize in a competition in the Transferable Skills conference organised by the Civil Engineering Division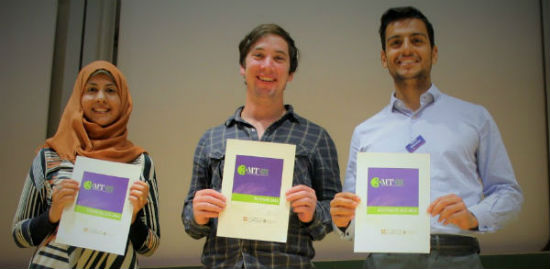 According to the Geotechnical and Environmental Research website, Tim's stand-out presentation titled Understanding passenger behaviour at urban scale won him the top step of the podium and a £150 cash prize. Well done, Tim. The competition was part of a one-day Transferable Skills conference titled Expanding Skills hosted by the Civil Engineering Division. The day, focused on workshop sessions, was an opportunity for graduate students within Division D to extend their background in various non-technical areas. 
The 3-minute thesis idea was originally developed by the University of Queensland, Australia and challenges competitors to effectively explain their research in three minutes using a single static slide and in a language appropriate to a non-specialist audience. 10 competitors took part and cash prizes were available for the top three.
"My presentation, "Understanding passenger behaviour at urban scale" focused on my progress in my PhD project, where I am creating a historic, time-varying model of London's transport infrastructure and using this to train models of passenger behaviour.
I found the Three Minute Thesis (3MT) format really exciting, both to watch and partake in. Whilst trying to summarise your research in such a short time is certainly stressful, I also found it a really useful process, forcing you to identify the core motivations and benefits of your work. I really enjoyed the variety of the presentations on the day, which covered a really broad range of topics and were all delivered with different approaches and styles."  - Tim Hillel.