Cohort 2 's London Study Tour creates booklet that pays homage to the great buildings that form the unique personality of London today.
Cohort 2 went on a study tour, paying homage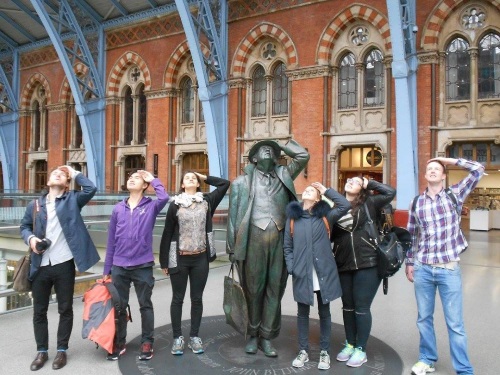 to many of London's great buildings like St Pancras, The Shard, the Gherkin and the British Museum to name a few. They then created an excellent booklet, "A Time Traveller's Guide to London's Buildings", highlighting the feats of architecture and engineering that combine the old and the new buildings to create the unique personality of London today. 
From the viewpoint of a Time Traveller, Cohort 2 marvelled at the rich history of many of the old buildings for example St Pancras station originally built in the 1860s and hailed as the Cathedral of the Railways. They highlighted the engineering challenges involved in the "constructive conservation" of  many of these great historic legacies turning them into the vibrant hubs of city life seen in King's Cross station.
With the advent of the 21st century, Cohort 2 showed how the regeneration of the London Bridge area led to the conception of The Shard, an exceptional architectural design that would scale the heights of national pride with the title of the tallest building in the European Union. Cohort 2 accentuated the building physics and structural concepts that made this achievement possible. They also highlighted how modern engineering and construction techniques enabled energy savings in these contemporary buildings, something that is embraced in their engineering course at the Centre for Doctoral Training - Future Infrastructure and Built Environment.