Hannah Baker: Workshop and Safari in South Africa
The perfect combination? It is for first-year PhD student Hannah Baker who went to Johannesburg, South Africa to host a workshop with undergraduate university students about her PhD topic: The Decision to Demolish or Adapt Existing Buildings on Brownfield Sites. The trip resulted from a link between Cambridge University and the Arup Education Trust (AET). AET sponsors students from historically disadvantaged communities on courses related to the built environment through the University.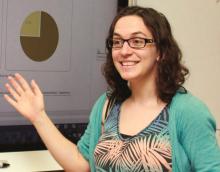 Hannah's workshop was a huge success. The students were divided into groups and asked to represent different stakeholder groups, such as developers or town planners. They identified and ranked criteria which they thought were important to their stakeholder group when deciding to demolish or retain existing buildings on a brownfield site. The Egoli Gas Works, a former industrial site in Johannesburg was used as the case study. The students presented their findings and got to understand the difficulty in making decisions in the real-world as different stakeholders (such as developers and town planners) can sometimes have very different priorities! This prompted a lively and interactive discussion.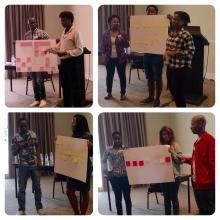 For Hannah, it was an opportunity to represent Cambridge University abroad and this trip provided not only networking connections but also a stimulating exchange of ideas with fellow engineering students in South Africa. She hoped she was able to provide an interesting topic of discussion that would supplement the curriculum of the South African students.  She is grateful to Susan Snaddon, AET Trustee and Alice Moncaster, her supervisor and Course Director of the Interdisciplinary Design and Built Environment (IDBE) Master's Programme at Cambridge University, who made this trip possible. She has conducted the same lecture here in the UK and plans to compare results and student responses across cultural boundaries. Hannah thoroughly enjoyed her trip to South Africa, tasted the exotic culinary delights on offer and even went on a day safari where she was thrilled to see wild animals in their natural surroundings. No prizes for guessing why the zebra crossed the road! (See picture on home page)